Collagen Induction Therapy
Micro Needling is a device used for stimulating collagen production. It  creates thousands of tiny puncture wounds to the skin, which stimulate the release of growth factors to create new collagen. We are creating micro damage to the skin without removing healthy tissue. In addition to stimulating collagen production, this procedure also creates channels through which any substance can be absorbed more easily. A common procedure done in combination with micro needling is PRP.
Many people can benefit from a treatment with Micro Needling. This treatment can help people with stretch marks, wrinkles, cellulite, hair loss, uneven skin, acne scars and other conditions cause by lack of collagen. The treatment is suitable for both men and women of all ages. Micro Needling is not recommended for people with infections, poor healing, active acne and raised moles or warts. The doctor will examine you thoroughly to determine if you are a candidate for micro needling.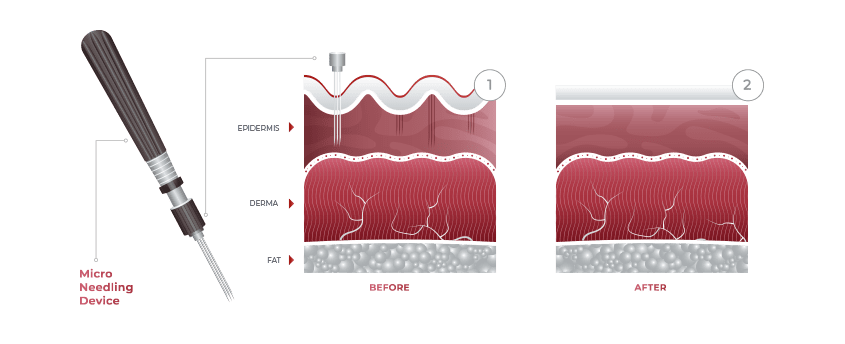 The Treatment
After a consultation with one of our doctors, your skin will be cleaned and anesthetic cream is applied to avoid discomfort. Then the doctor will use the micro needling device in the treatment area, rolling in different direction to make as many micro damages as possible. After using the dermal roller, the doctor will typically do a combination with PRP or other skin rejuvenation treatment. This is to take full advantage of the skin's condition after using the roller.  In some cases micro-needling can be done alone, without additional skin rejuvenation treatment.
Repeat Treatment
Repeat treatment may be necessary depending on your condition. But because we are stimulating the body to do most of the work, it will need time to work.  A repeat treatment should not be done until one month later. The doctor will advise you on when to come back for follow up treatment. This treatment will not stop the aging of the skin. For skin rejuvenation you will have to maintain the result by repeating the procedure 1-2 times a year.
Side Effects & After Care
After a treatment with derma roller you will look like you had moderate sunburn. This redness will go away within 3-4 days. After this initial redness, the healing of the skin will start. It is important to be careful when you clean the area, especially during the first 48 hours. A good sunscreen is recommended after using micro needling.
Watch How Micro nedling Works
LET US HELP YOU ACHIEVE YOUR PERFECT SMILE
Visit Our Dental Website